La tienda de Brisbane Laced se ha unido con Le Coq Sportif para sacar su primera colaboración, las Le Coq Sportif Zenith "Banana Bender". El 90% de los plátanos consumidos en Australia provienen de Queensland, estado Australiano situado en el noroeste de la isla y donde se ubica la tienda de Laced, en Brisbane su capital. De ahí sale la inspiración del proyecto, y el nombre de "banana bender" es el apodo con el que llaman a los nativos de la zona.
Las zapatillas están fabricadas en suede de color rojo y mesh de color blanco. En el talón del pie izquierdo viene bordado un plátano, mientras que en el del pie derecho viene el logo de la tienda. Las plantillas vienen con una impresión que simboliza el río de Brisbane.
Lanzamiento el próximo Sábado 28 de Marzo en 24 Kilates.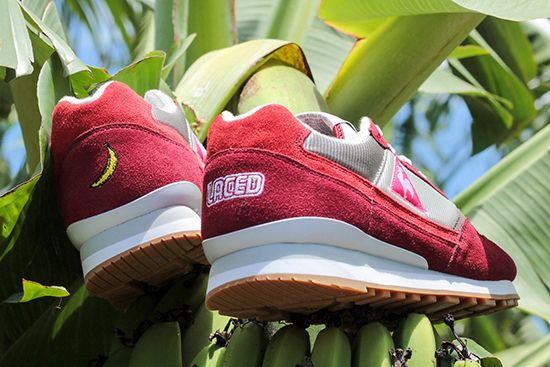 Brisbane's Laced has teamed up with Le Coq Sportif for its first ever sneaker collaboration, with the resulting limited-edition Zenith trainer paying tribute to the retailer's Queensland roots. As 90% of all Australia's bananas are grown in Queensland, and the natives themselves are colloquially known as "banana benders," the fruit is prominently displayed on the heel of the left shoe. (The Laced logo is embroidered on the heel of the right.)
Otherwise, the shoe features suede maroon overlays and a white mesh base, accented with neutral grey detailing and a gum rubber outsole. A custom sockliner depicting the Brisbane River rounds out the details.
Launch next Saturday March 28th at 24 Kilates.