Para celebrar el 25 aniversario del nacimiento del modelo Workout, Reebok prepara el lanzamiento de un proyecto que incluye a 15 tiendas de todo el mundo.
La Reebok Workout es un icono de la marca, una zapatilla versátil puesta a la venta por primera vez en 1987 que proporcionaba un soporte lateral diferente a todo lo que se había visto hasta entonces.
Para el desarrollo de este proyecto, nuestra idea era hacer algo que nadie hubiera hecho con este icono de los 80.
Hemos trabajado en la estructura del modelo de una manera muy básica , aplicando color siguiendo las líneas de la zapatilla creando una estructura distinta y dando fuerza al toe-box usando neopreno para suavizar la dureza del cuero con el que el modelo nos tenía acostumbrados.
El resultado es una interpretación personal de este clásico de Reebok que refleja nuestro carácter.
Para dar un toque más de calidad a este proyecto, Highsnobiety conjuntamente con Reebok ha creado un site donde podréis ver imágenes de las demás colaboraciones.
http://www.highsnobiety.com/workout25/
El lanzamiento del Reebok Workout 25th Anniversary collection lo vamos a celebrar el próximo viernes 17 de Febrero.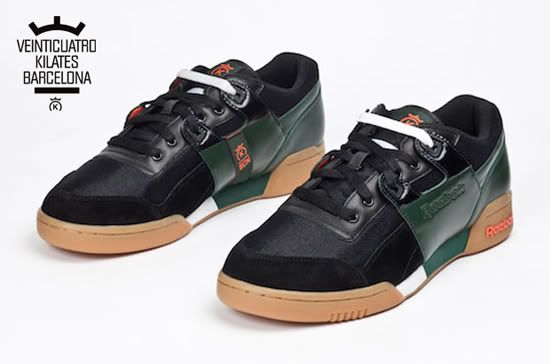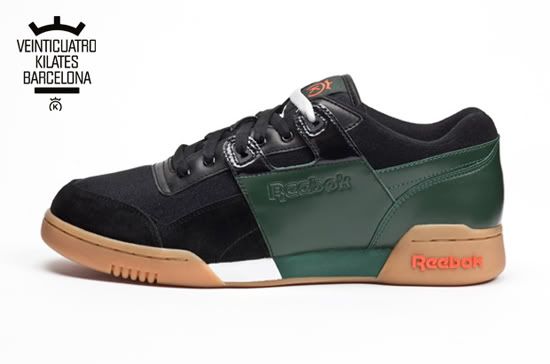 Celebrating the 25th Anniversary of the Workout, Reebok Classics has collaborated with fifteen top retail partners from around the globe.
Originally designed as a multi-discipline shoe, the sneaker provided a cross-gender solution to lateral support as well as a point-of-difference, making a simple shoe an icon. The evolved dual strap concept lending both functionality and an arresting aesthetic.In 1987 — 25 years ago — the Workout had a slight makeover. Adding extra paneling on the forefoot, the sneaker became more durable for street wear and the Reebok Workout Plus was born.
In all white or black-on-black, the Workout became the everyman shoe of choice. Versatile enough to weather stylistic changes, various cuts of denim and grow agelessly, the clean aspirations of the Workout continued for generations to follow.
Through boom times and recession, the Workout has remained recognizable. Serving time as both a status symbol and as a shoe for pure function, the Workout has attained icon status.
For the development of this project, our idea was to try to do something that no one had done before with this classic model. We knew it was a difficult task. We tried to work in the structure of the model in a very basic way, applying color following the lines of the original design, as a trompe l'oeil, creating a different structure, and giving strength to the back of the shoe.
Moreover, we decided to use neoprene in some parts, softening the hardness of leather. The result: a personal reinterpretation of an icon which captures our character.
To highlight the anniversary collection, Highsnobiety has partnered with Reebok to present a Microsite showcasing each of the fifteen sneakers. Through a series of photographs and stories, we reflect on the worldwide appeal of the shoe and see how each partner translated their vision of the Workout.
http://www.highsnobiety.com/workout25/
The 25th Anniversary Reebok Workout Plus collection will be available next February 17th.