Play Cloths acaba de lanzar su tercer proyecto con Saucony llamado "Strange Fruit Pack". Siguiendo el pack del pasado año llamado "Cotton Candy", este pack está inspirado directamente en los colores de frutas exóticas.
Las zapatillas están fabricadas con Premium suede todas de un color; gris, naranja y lila, mezclando con la suela en color goma. El upper está perforado con las estrellas de Play Cloths, mientras que en la lengüeta hay una etiqueta con el logo de las dos marcas.
Lanzamiento el próximo Sábado 27 de Septiembre.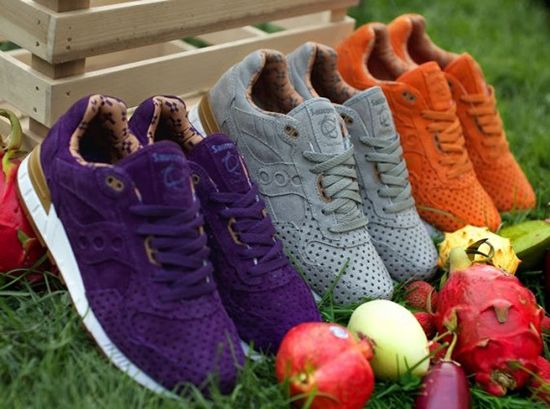 Play Cloths has released their latest collaborative footwear project with heritage company Saucony titled "Strange Fruit". A followup to last year's "Cotton Candy" collaboration, the pack was directly inspired by the natural colors of rare and exotic fruits like dragon fruit, mangosteen or star fruit to name a few.
Perfect for fall, the colorful exotic fruit runners were crafted with luxurious suede paneling and a classic gum outsole finish. The upper features an eye-catching Play Cloths star-perforated toe box while Saucony branding adorns the lateral quarter and tongue.
Offered in neutral grey, burnt orange and crown jewel colorways, the "Strange Fruit" pack will be available at 24 Kilates next Saturday September 27th.