Mita Sneakers de Japón y el artista SBTG de Singapur han unido fuerzas con New Balance para trabajar en una edición especial. Las New Balance MRT580. Ésta colaboración viene con una excelente combinación de materiales, nubuck negro en el upper, una combinación de detalles brillantes verdes y la firma de SBTG. Vine and Tiger de camuflaje adornan la lengüeta y el área del talón. Las plantillas y etiqueta de la lengüeta cuentan con obras de arte personalizadas, que representan la ruptura de las barreras entre éstos países.
Las Mita Sneakers x SBTG x New Balance MRT580 estarán disponibles en 24 Kilates el próximo sábado 18 de enero, primero en tienda.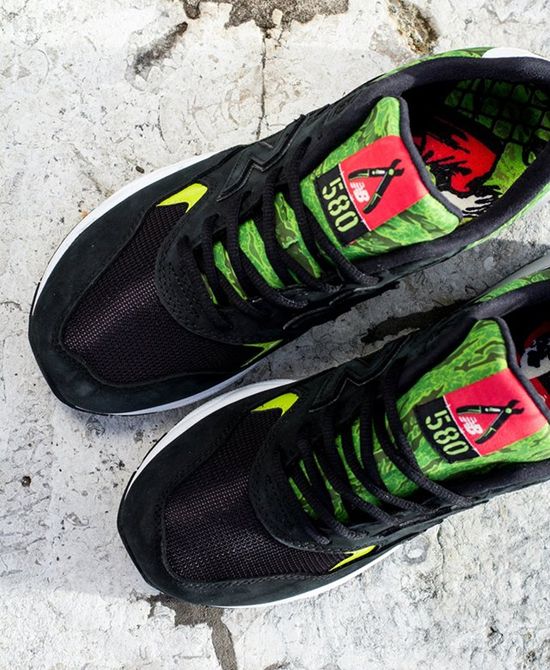 Japanese retailer mita sneakers and Singaporean artist SBTG have teamed up with New Balance to produce a unique version of the MRT580 silhouette. The shoe features a charcoal black nubuck upper with bright green accents and a combination of SBTG's signature Vine and Tiger Stripe camo patterns across the tongue and collar. The insoles feature artwork representing the breaking down of barriers and is a reflection of mita sneakers and SBTG coming together as partners for this collaboration. That theme is also echoed on the tongue tag, which features a depiction of mita sneakers' signature wire fence and a set of wire cutters. The mita sneakers x SBTG x New Balance MRT580SM is due to hit 24 Kilates next Saturday January 18th, in-store first.
SBTG x MIta Sneakers x New Balance MRT580SM
from
madebynb
on
Vimeo
.