La nueva colección de Ronnie Fieg con Puma está basada en uno de los símbolos más conocidos de la cultura japonesa, la sakura o flores de cerezo.
Esta colección está formada por un color de R698 y una nueva silueta llamada RF698 Mid. La R698 está fabricada toda en suede microperforado de color rojo en el toe-box y una tonalidad mezcla de rosa y blanco para las piezas finales de la zapatilla. El otro modelo, el nuevo RF698 es igual que la R698 pero de media bota y con un calcetín de neopreno en el interior. Estas vienen fabricadas en nubuck perforado de color azul marino en el toe-box, el cuerpo de la zapatilla de color burgundy y la parte de neopreno también en azul.
Cada modelo viene con tres pares de cordones diferentes para combinar y una caja especial. Las Ronnie Fieg x Puma "Tokyo Sakura project" estarán disponibles en 24 Kilates el próximo Sábado 11 de Abril, primero en tienda. Las R698 a un precio de 160€ y las RF698 170€.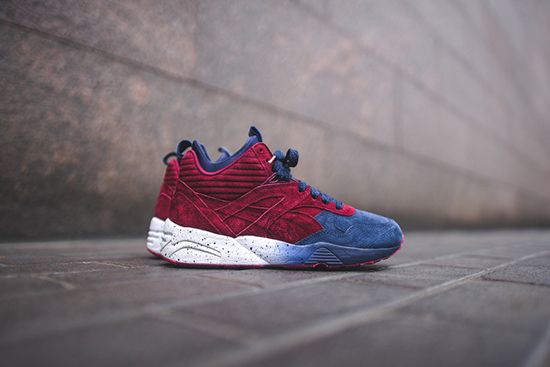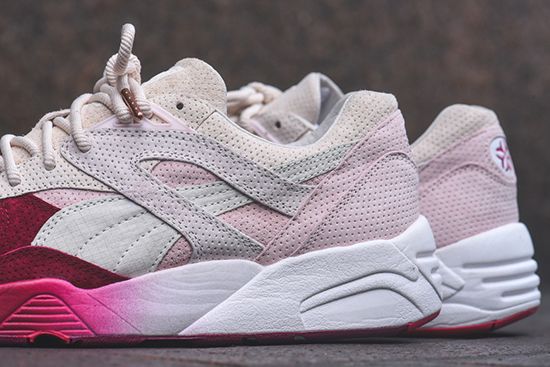 Ronnie Fieg and PUMA team up on the "Tokyo Sakura Project," which includes one of PUMA's most-loved silhouettes – the R698 and the new RF698 Mid – named after Ronnie Fieg.
Both unisex models feature colorways inspired by nature in Japan, with the R698 representing seasonal transition with a light color palette. Its upper consists of micro-perforated pigskin suede, with color-blocked burgundy in the toe box and light pink in the quarter panels while white adorns the vamp and collar. With a scythed formstripe, the shoe exhibits a petal-like effect, with a Trinomic midsole of a soft gradient completing the shoe.
The RF698 Mid features a darker color palette, with a heightened silhouette with a mid-cut collar boasting horizontal quilting. The shoe also features a neoprene inner sock as well as a navy micro-perforated nubuck toe box against a burgundy pigskin suede upper. Both models feature sakura blossom logos on the heel panels and quilted branded insoles.
The Ronnie Fieg x PUMA R698 is priced at 160€, while the RF698 Mid retails for 170€. The Ronnie Fieg x Puma "Tokyo Sakura project" will be available at 24 Kilates the next Saturday April 11st, in-store first.