Nueva colaboración entre Reebok y nuestros amigos suecos de Sneakersnstuff.
El modelo que ambos han escogido es el Twilight Zone Pump, zapatilla que salió a la venta por primera vez un año después del lanzamiento de las Bringback, en 1990, y que destacó por tener Pump y Energy Return System en el talón, dos de los deseos que los atletas de esa época buscaban en una zapatilla de baloncesto. Cómo las Bringback, las Twilight Zone fueron llevadas por la superestrella de la NBA Dominique Wilkins. Los chicos de Sneakersnstuff le han puesto el nombre de "Punschrulle" a esta colaboración. Dicen que Suecia es el segundo país en consumo de café, y los colores de las zapatillas están basados en un chocolate que acompañan con el café, llamado Punschrulle.
Vienen fabricadas en suede verde y piel marrón, con dos pares de cordones.
Disponibles en 24 Kilates el próximo sábado 30 de noviembre.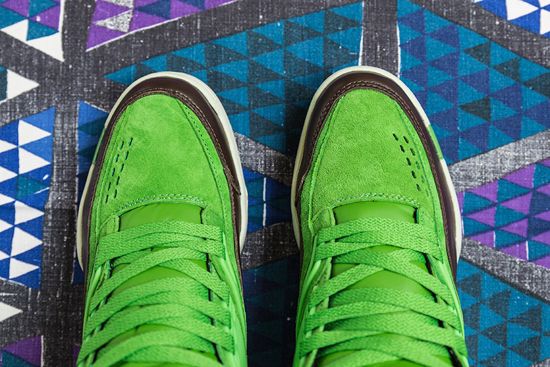 New collaboration between Reebok and our Swedish friends from Sneakersn,stuff.
The Reebok Pump Twilight Zone was introduced in 1990; it was a super high-top sneaker that boasted Pump and Energy Return System technology on the heel and fulfilled all the desires of what athletes and consumers were looking for in a sneaker. Like the Bringback, the Twilight Zone was worn by NBA Superstar Dominique Wilkins, but was undoubtedly more recognized for being immense pop-culture hit – celebrities and kids on the street loved the Twilight Zone without restraint, and the Reebok Pump as a whole defined that generation of street fashion with its unique style and technology. The sneakers come with a "Punschrulle" nickname, an allusion to a chocolatey little treat that the Swedish usually have with their coffee (According to SNS, Sweden is the second in the world when it comes to coffee consumption). The green and brown Sneakersnstuff x Reebok Twilight Zone Pump "Punschrulle" is a tribute to that sugar injection. It is a bit unclear who invented the Punschrulle, or Dammsugare as it is also know as, but it is believed to have been born during the World War years when sugar, butter and many other things were rationed. One of the few things that you could actually buy was smaller pieces of hard bread, and someone realized that if you crumbled those pieces of bread, poured some Punsch on it and dipped it in chocolate it made a very tasty treat. Punsch is a quite sweet and very Swedish liqueur that is based on arrack and has a pretty distinct taste to it, so the combination was a success. And when the war was over and the days of rationing had moved on, someone realized that if you covered it in green marzipan it tasted even better.
This SneakersNStuff x Reebok Pump Twilight Zone will be available at 24 Kilates next Saturday November 30th.