En 1980 muchos jugadores de baloncesto diseñaron su propio modelo para varias marcas, pero en 1989 Patrick Ewing subió un escalón mas consiguiendo ser el primer jugador de baloncesto profesional en tener su propia compañía de zapatillas, Ewing Athletics.
El primer modelo en salir a la venta fue el Rebound, pero el lanzamiento importante de la compañía no se produjo hasta que se crearon las 33 Hi. Este modelo fue un top ventas, siendo una de las zapatillas más llevadas en NYC, Europa y Asia en esa época. Las 33Hi se vendieron durante mucho tiempo, y salieron en varias portadas de discos y videos de la época. Patrick llevó este modelo durante la temporada de 1990, y fue su mejor temporada como profesional. Los siguientes años, al empezar cada temporada Patrick debutaba con el último lanzamiento de la compañía.
Durante este tiempo la compañía se expandió incluyendo todo tipo de modelos de zapatillas en sus colecciones, CrossTrainers, Running shoes y botas de montaña. Debido a la gran demanda de modelos vinatge que había en internet, en 2012 Patrick ha relanzado su marca otra vez, Ewing Athletics. Los mismos modelos originales, con el mismo shape, mismos detalles y respetando el heritage de la marca. El primer modelo en ser reditado, cómo no podía ser de otra manera es el 33 Hi, en sus cuatro originals colorways.
Estas joyas estarán disponibles muy pronto en 24 kilates, así que si no quieres perder la oportunidad de volver a calzarte esta leyenda, ya puedes mandarnos un pre-order indicándonos que talla y que color necesitas a nuestro email de contacto: shop@24-kts.com. Buena suerte a todos!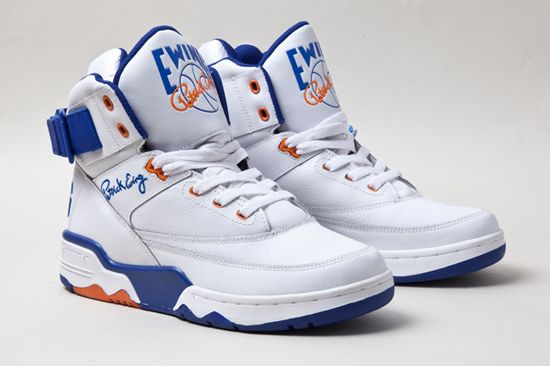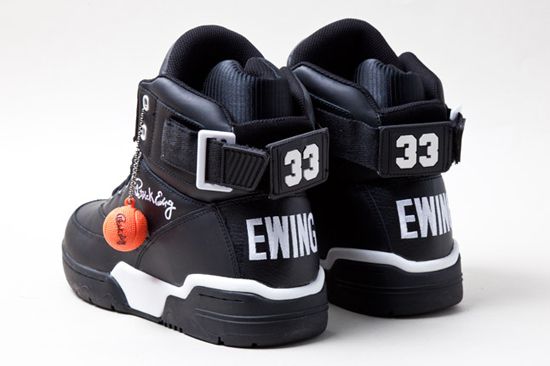 The 1980s gave birth to the signature basketball shoe as many players received their own shoe model from companies, and in 1989 Patrick Ewing took it one step further, becoming the first professional basketball player to have his own shoe company, Ewing Athletics.
The first model he wore briefly for the 1989 season was the Rebound, but the first main release from the company was the 33 HI. This shoe would go on to become a huge seller, becoming a street staple in NYC, and eventually becoming a favorite in Europe and Asia as well. The 33 HI remained in production and a top seller for years, and was featured in many album covers and music videos of the era. Patrick wore the shoe during the 1990 season and enjoyed his best season as a pro. For the next few years, at the start of every season Patrick would debut the company's latest game model. During this time, the company was rapidly expanding to include all types of footwear, not just the same models that Patrick wore in games. There were other models of team basketball shoes, cross trainers, running shoes and even hiking boots. In the 2000′s as the Internet Age dawned, there became a huge online cult following and demand increased for vintage Ewing shoes from all over the world and in 2012 Patrick has relaunched Ewing Athletics.
The goal is to cater to our core fans who want the original models produced true to form, with authenticity and with respect to the heritage of the line. The first style released it,s the 33Hi, in four original colorways.
Those jewels will be available at 24 kilates soon, so if you want to grab that legend, send us a pre-order email at the store email: shop@24-kts.com. Good luck to everyone!