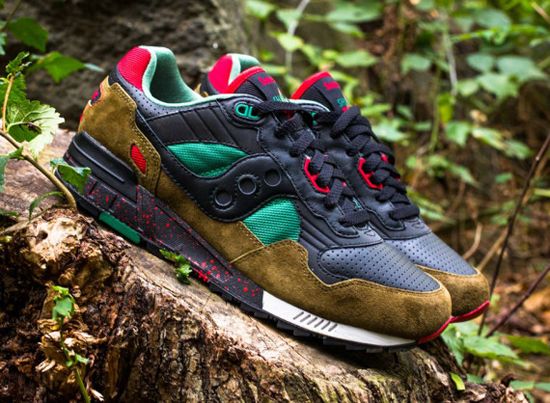 Después del lanzamiento de las Shadow 5000 "Tequila Sunrise" del pasado Septiembre, la tienda West NYC nos sorprende con una de las mejores colaboraciones con Saucony de este año. El proyecto se llama "Cabin Fever", el modelo elegido vuelve a ser el Shadow 5000 pero esta vez han escogido unos colores y materiales mucho más adecuados para esta época. Fabricadas en premium suede marrón, piel negra perforada y mesh verde, la combinación de colores finaliza con detalles en rojo en la lengüeta y talón y la suela partida en negro y blanco con manchas de pintura.
Lanzamiento el próximo Sábado 07 de diciembre, primero en tienda.
Following the release of the collaborative "Tequila Sunrise" earlier this summer, the Big Apple's West NYC has tapped Saucony and the Shadow 5000 once again, this time for the "Cabin Fever" edition of the runner. Apropos of a fall/winter drop, the "Cabin Fever" take on the Shadow 5000 represents an immersive trip into the forest thanks to an earth-toned upper of premium suede, perforated leather and rugged ripstop alongside a splatter motif across the midsole. Combining the subtlety of black and brown with bold hues of green and red, the "Cabin Fever" Saucony Shadow 5000 is due to hit 24 Kilates next Saturday december 7th, in-store first.