Después de llevar las Jordan IV durante la primera mitad de la temporada 89-90, Michael Jordan jugó su primer partido llevando Jordan V en Febrero de 1990 durante los All-Star Games.
Las Jordan V traían varios detalles de Jordan IV, pero Tinker Hatfield quiso ir más allá y diseñó el modelo en base al mítico avión de la segunda guerra mundial, el Mustang Fighter. El modelo traía los dientes de tiburón en la mediasuela cómo el bombardero, y una enorme lengüeta fabricada en 3M reflectante recreando los paneles brillantes del lateral del Mustang. También introdujo un trozo de la suela transparente, y la cámara de aire visible.
Las jordan V están consideradas uno de los modelos más cómodos de Air Jordan creados hasta el día de hoy.
Disponibles este próximo sábado 26 de Enero en 24 Kilates.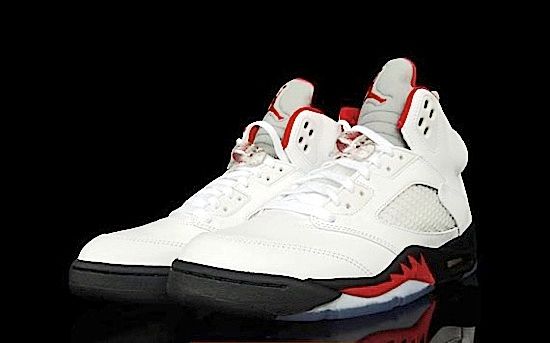 After wearing the Air Jordan IV for the first half of the '89-'90 season, Michael Jordan debuted the Air Jordan V in February of 1990 during the All-Star Game. The Air Jordan V featured a few carry-over design elements from the Air Jordan IV but utilized an all new architectural muse. Likening Michael Jordan's gameplay to a World War II Mustang Fighter Jet for his sneak attacks and aerial assaults, repeat designer Tinker Hatfield transferred the design of the plane onto the shoe, marked by the 'shark's teeth' on the midsole and the over-sized padded tongue with 3M-reflective material to match the shiny panels of the Mustang's body. Tinker Hatfield also introduced the translucent sole to the Air Jordan, creating even more of a dazzling appearance, and used that same material on the upper netting, which reduced the weight of the shoe. Combined with the visible Air cushioning, the Air Jordan V is considered to be one of the most comfortable Air Jordans ever created.
The Air Jordan V pictured mixes in white, fire red, and black for that classic Chicago look, also coming with a bit of subtle silver thanks to that all-important 3M flash on the tongue.
Available next Saturday 26th at 24 Kilates.