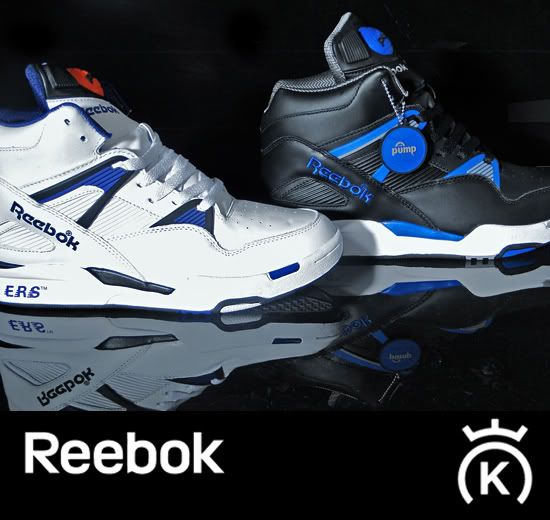 Los amantes de Reebok pump estáis de enhorabuena.Nos acaban de llegar a la tienda la reedición de los dos colores originales de Omni Zone pump + una edición especial del 20 aniversario de la Court VIctory pump.Las omni zone editadas por primera vez en 1985 , vienen en piel negra con acentos en awesome blue unas y el otro modelo en piel blanca con detalles en el pasador de cordones en negro/lila.
Ambas traen consigo las cámaras de aire ERS(Energy Return System) en el talón, y como es de esperar, el pump en la lengüeta para mayor sujeción al tobillo.Todo un clásico de los 80,s.El segundo modelo es el Court Victory pump , una zapatilla no tan alta como las Omni zone mencionadas anteriormente que se hizo famosa al ser llevada por Michael Chang.Viene en piel negra con detalles en blanco/naranja(colores originales que las Omni Lite de Dee Brown)y con cámaras de aire Hexalite en la suela .
Ambas ya están disponibles en nuestra tienda online.
Reebok Pump fan,s are in good luck.
We just recibe the 2 original colorways of the Reebok pump Omni Zone + the 20th Aniversary especial edition of the Court Victory pump.
The pump Omni Zone comes one in a black leather base with grey and awesome blue accents, and the other in white leather with purple details .Both comes with ERS(Energy Return System) and pump technology on the tongue.
And for celebrate this 20th anniversary, Reebok released this Reebok Court Victory Pump model in a Black/Orange/White color scheme(like the og Omni Lite "Dee Brown " colorway).The sneaker features a black leather, white trim, and orange accents. Forefoot and heel Hexalite cushioning and a white/orange outsole complete the theme.
Both styles are available at our online store.