La marca de streetwear IN4MATION vuelve a juntar ideas con G-SHOCK para producir un nuevo modelo de 6900.
A destacar los colores Rasta utilizados, y el texto "One Love" al iluminar la pantalla .
Disponible en cantidades limitadas en 24 kilates.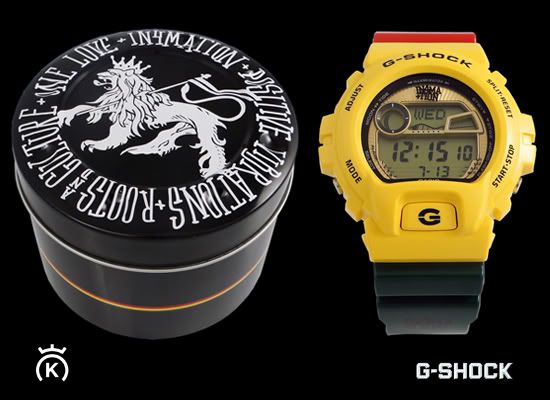 The Hawaiian streetwear brand IN4MATION once again joined forces with G-Shock to produce this island inspired 6900, spreading "positive vibrations + roots and culture" on the custom g-shock tin it comes in. Features include Tide Graph information for specific location, Moon Data: showing Moon Age and Phase for a specific location, red and green resin bands, a golden dial with yellow lcd, as well as the standard water and shock resistance amongst others.
Limited quantities available at 24 kilates.